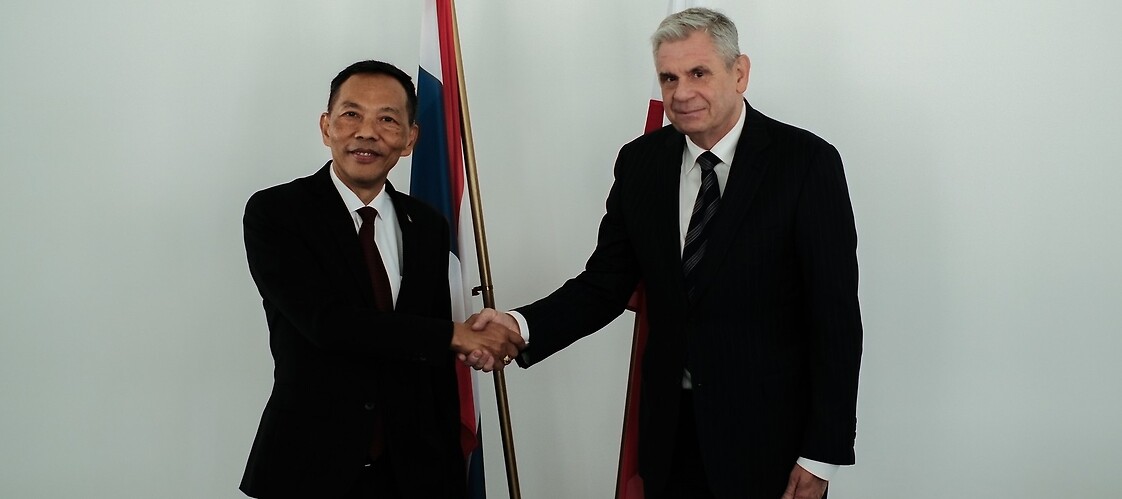 Visit of the Thai regulator NBTC to UKE
On 12-13 September 2022, UKE was visited by a delegation of Thai NRA - the National Broadcasting and Telecommunication Commission (NBTC) chaired by Dr Thanapant Raicharoen, Air Marshal, NBTC Commissioner. The visit took place as part of a bilateral cooperation conducted on the basis of the Memorandum of Understanding (MoU) signed by both regulators in 2013.
On the first day of the visit, NBTC and UKE representatives visited the Teleport satellite communication station, owned by Teleoff, located in Mińsk Mazowiecki. They learned about the station's history, monitoring functions, reliability and uninterrupted operation, the services it provides, ways of detecting and responding in case of harmful interferences, etc.
On the second day a meeting at UKE seat was held and both sides exchanged the experience in four thematic areas, which they are currently particularly interested in. UKE experts presented issues related to the management of frequency resources, in particular planning their allocation and competition on the telecommunications market, including actions taken by the regulator in the case of mergers and acquisitions.
In turn, NBTC representatives shared their experiences in the field of 5G technology, in particular regarding the implementation process itself, time frame, suppliers, service quality indicators. Additionally, at the request of the Polish side, they presented the operation of the Public Protection and Disaster Relief (PPDR) system, including its organisation in legal terms (cooperation with commercial operators, linkage with cybersecurity systems) and technical (frequency band and technologies used, traffic prioritisation, use of domestic roaming, cooperation with civilian operators, mobile and temporary base stations developed during the crisis).
Both sides found the meeting extremely interesting and valuable, especially since after a long break caused by the pandemic, which limited the possibility of meetings to video conferences, it was held in a stationary form. UKE and NBTC have expressed their willingness to continue their cooperation.