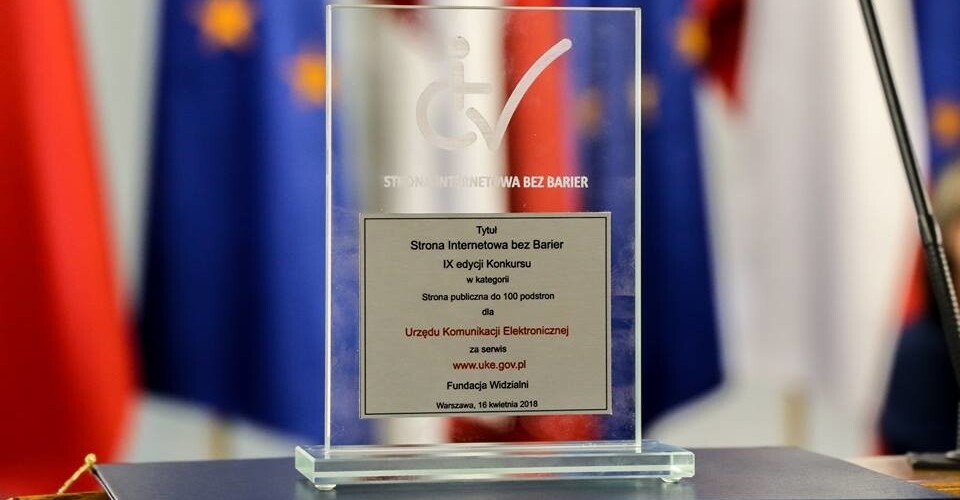 UKE website wins contest 'Website without barriers'!
We believe, that access to data published on the internet should be equal to everyone regardless of disability, age or financial status. That is why we are very proud to inform that our website won first prize in a contest 'Website without barriers' in the category of 'public websites up to 100 subpages'!
The contest 'Website without barriers' promotes creating websites based on concept of preventing digital exclusion and discrimination in access to information. The contest is open to public institutions, non-governmental organisations, companies and individuals. Websites entered for the contest are evaluated by a team of experts, who verify their compliance with the international WCAG (Web Content Accessibility Guidelines) standard. Disabled persons also participate in the evaluation of websites, they test availability and convenience of access to information, forms and multimedia.
This is not our only success. In Accessibility Report 2018, prepared by the Visible Foundation, our website was marked as very good. We also won a distinction in contest 'Leader of Digital Accessibility' as one of the regulators most active in improving accessibility standards in the sector of telecommunications services. The awarding committee appreciated also the fact that UKE in all its actions takes into consideration architectural accessibility and availability of communications services, continuously develops competencies of its employees, as well as increases employment of people with disabilities.
We are very grateful for these distinctions! We see them as a token of appreciation of the work accomplished to date, but also as an obligation to perform further tasks to promote full accessibility.