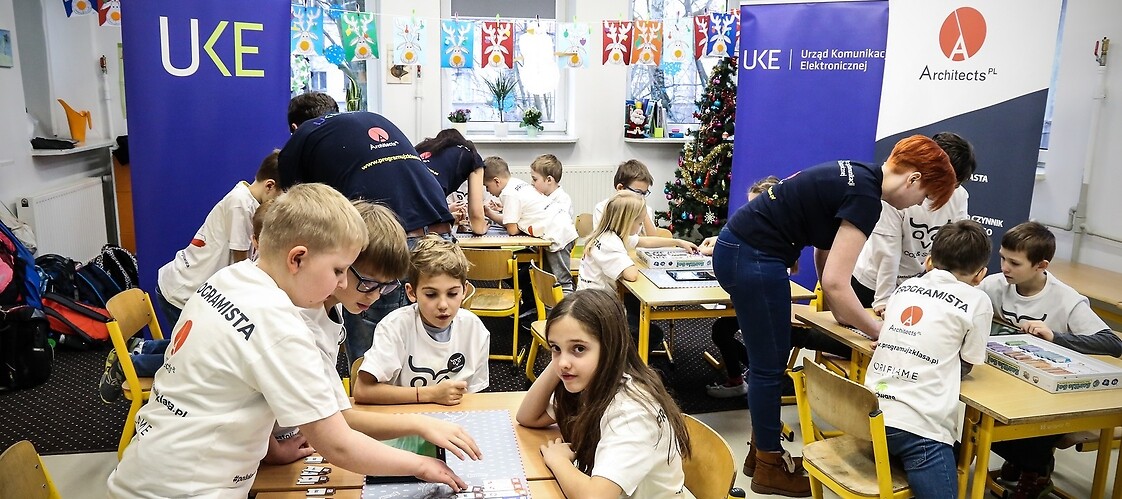 UKE participated in the establishment of the Guinness record in programming
The Office of Electronic Communications was a co-organizer and strategic partner of this event. The action was organized by the ArchitectsPL Foundation.

- We teach children the basics of programming, we show how to use new technologies creatively. The Code & Share campaign fits perfectly into our activities aimed at making the young generation navigate the digital world efficiently and safely - said the President of UKE Marcin Cichy. He added that the event is the culmination of the Office's year-long efforts to educate the youngest.

Educational campaigns

UKE conducts a number of digital education campaigns targeted at the youngest generation. Only this year, almost 40,000 children took part in the "Click sensibly" classes, and as part of the #kodujzUKE action, over 400 pupils had the opportunity to learn the basics of scratch programming. Next year, UKE plans to conduct coding training for 1800 children for 50,000 and for children under "Click sensibly".

From among all schools participating in the action, Marcin Cichy visited the Jan Gutenberg Lower Secondary School and Primary School in Warsaw, which became the "command centre" for this event. Here, from the morning, it was obvious that it was an important day for the institution. The corridors were full of children taking part in this special lesson, dressed in uniform shirts with the logo of the action. On the School's Facebook profile, live reports were delivered by the pupils, including interviews with the organizers' representatives.

Coding at one time

The lesson started exactly at 10.30 and pupils from grades 4-7 of primary schools took part in it. All participants programmed using the "Warm-Cold" game, learning programming using the PISAK component in the Scratch programme. In accordance with the rules, only students, instructors or teachers, as well as two witnesses and persons responsible for timekeeping, as well as a representative of the audit company were allowed to be present in the rooms where the record was to be set up.

- Currently there are about 250,000 programmers in Poland, but this is still about 30-50 thousand too few. Meanwhile, the digital world is increasingly decisive for the future of modern economies, so we must support the improvement of digital competences of Polish people and the development of the information society - emphasized the President of UKE.

We are now awaiting the official approval of the record by Guinness.

In addition to UKE and ArchitectsPL, the School Foundation and such cities as Warsaw, Gdańsk, Płock, Lublin, Poznań, Siemiatycze and the Rozogi Municipality joined the campaign. The action is supported, among others, by the Ministry of National Education, the Polish IT and Telecommunication Chamber of Commerce, the Polish Information Processing Society, the Broad Agreement for the Development of Digital Skills in Poland and the Orange Foundation.